The Kew Book Of Painting Roses In Watercolour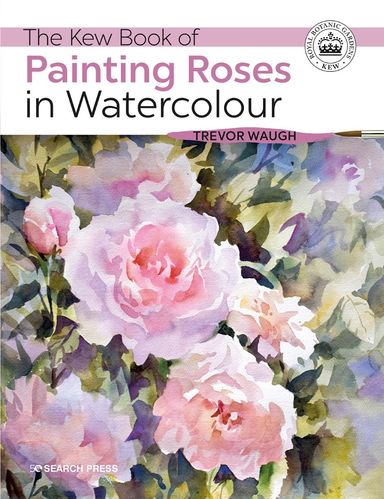 ISBN 9781782216568
Publisher Search Press
Format BC Paperback
Dimensions 216mm x 280mm
Page Extent 128
Pub Date March 2020
Description
Roses have a special place in both art and culture across the world. Published in Association with Kew Gardens, this stunning book teaches you how to capture their character, colour and form in watercolour, and showcases both historical images from the Kew archives and the author's own extensive collection of inspiring paintings.
Guided by watercolour artist and rose enthusiast Trevor Waugh, this book begins with clear explanations of essential watercolour techniques followed by a short project that allows the reader to explore the nature of watercolour in a practical way. Particular emphasis is placed on mixing colours cleanly in order to reproduce the purity and variety of this much-loved family of flowers. This is followed by sections on how to gather reference material; how to compose your own paintings; and how to inject your paintings with colour and light. All are accompanied by three further step-by-step projects, each culminating in a stunning painting of your own.
About the Author
Trevor Waugh is an internationally renowned and highly regarded British fine artist living in Wiltshire, England. Working mainly in watercolour and oils, and occasionally in mixed media, his paintings can be found in many private and royal collections around the world. Trevor works in an impressionistic, loose artistic style that brings light and life to his chosen subjects.
Book

0074420 - #9781782216568

Length: 10 mm

Width: 216 mm

Height: 540 mm

Weight: 540 g
|   | Barcode | Length (mm) | Width (mm) | Height (mm) | Weight (g) |
| --- | --- | --- | --- | --- | --- |
| | 9781782216568 | 10 | 216 | 540 | 540 |