Winsor & Newton ProMarkers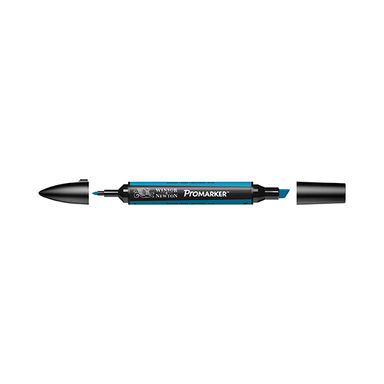 Winsor & Newton ProMarker is a high quality, twin tipped marker, offering a perfect introduction to colouring with an alcohol based marker. ProMarker colours have a translucent quality and can be layered to achieve varying depth and opacity. Ideal for design, illustration, comic art and a range of creative applications.
Promarkers feature two inbuilt nibs
Fine Bullet Nib ideal for precise detailing and line work
Broad Nib great for quick visuals and filling in larger areas
The colour dyes in ProMarkers ensure even colour laydown, outstanding vibrancy and tonal variation.
Winsor & Newton ProMarkers are available in an extensive palette of 147 colours ranging from subtle pastels through to bold vibrant hues. The range also includes the ProMarker Blender which can be used to soften and merge colours together.
Fast drying and can be used on plastic and metal. Brushmarker and ProMarker contain the same alcohol and dye formulation allowing mixing between the ranges.
For the best results, use Winsor & Newton ProMarker on Winsor & Newton Bleedproof Paper or a heavyweight paper with a smooth coated surface.
Ivory (Y418)

0414700 - #0884955041703

Length: 150 mm

Width: 17 mm

Height: 15 mm

Weight: 16 g

Primrose (Y919)

0415100 - #0884955042106

Length: 150 mm

Width: 17 mm

Height: 15 mm

Weight: 17 g

Buttercup (Y417)

0414250 - #0884955041253

Length: 150 mm

Width: 17 mm

Height: 15 mm

Weight: 16 g

Soft Lime (Y828)

0415280 - #0884955042281

Length: 150 mm

Width: 17 mm

Height: 15 mm

Weight: 16 g

Tulip Yellow (Y337)

0415370 - #0884955042373

Length: 150 mm

Width: 17 mm

Height: 15 mm

Weight: 16 g

Lemon (Y747)

0414740 - #0884955041741

Length: 150 mm

Width: 17 mm

Height: 15 mm

Weight: 17 g

Yellow (Y657)

0415480 - #0884955042489

Length: 150 mm

Width: 17 mm

Height: 15 mm

Weight: 17 g

Canary (Y367)

0414260 - #0884955041260

Length: 150 mm

Width: 17 mm

Height: 15 mm

Weight: 17 g

Sunflower (Y156)

0415310 - #0884955042311

Length: 150 mm

Width: 17 mm

Height: 15 mm

Weight: 17 g

Almond (O819)

0414020 - #0884955041024

Length: 150 mm

Width: 17 mm

Height: 15 mm

Weight: 16 g

Blush (O729)

0414180 - #0884955041185

Length: 150 mm

Width: 17 mm

Height: 15 mm

Weight: 17 g

Saffron (O739)

0415200 - #0884955042205

Length: 150 mm

Width: 17 mm

Height: 15 mm

Weight: 16 g

Vanilla (O929)

0415400 - #0884955042403

Length: 150 mm

Width: 17 mm

Height: 15 mm

Weight: 16 g

Pastel Yellow (O949)

0415010 - #0884955042014

Length: 150 mm

Width: 17 mm

Height: 15 mm

Weight: 17 g

Mustard (O948)

0414910 - #0884955041918

Length: 150 mm

Width: 17 mm

Height: 15 mm

Weight: 16 g

Oatmeal (O628)

0414920 - #0884955041925

Length: 150 mm

Width: 17 mm

Height: 15 mm

Weight: 17 g

Apricot (O538)

0414070 - #0884955041079

Length: 150 mm

Width: 17 mm

Height: 15 mm

Weight: 17 g

Honeycomb (O547)

0414620 - #0884955041628

Length: 150 mm

Width: 17 mm

Height: 15 mm

Weight: 17 g

Gold (O555)

0414560 - #0884955041567

Length: 150 mm

Width: 17 mm

Height: 15 mm

Weight: 16 g

Amber (O567)

0414030 - #0884955041031

Length: 150 mm

Width: 17 mm

Height: 15 mm

Weight: 17 g

Pumpkin (O467)

0415120 - #0884955042120

Length: 150 mm

Width: 17 mm

Height: 15 mm

Weight: 17 g

Ginger (O136)

0414550 - #0884955041550

Length: 150 mm

Width: 17 mm

Height: 15 mm

Weight: 17 g

Bright Orange (O177)

0414200 - #0884955041208

Length: 150 mm

Width: 17 mm

Height: 15 mm

Weight: 17 g

Mandarin (O277)

0414810 - #0884955041819

Length: 150 mm

Width: 17 mm

Height: 15 mm

Weight: 16 g

Orange (R866)

0414940 - #0884955041949

Length: 150 mm

Width: 17 mm

Height: 15 mm

Weight: 16 g

Spice (O346)

0415300 - #0884955042304

Length: 150 mm

Width: 17 mm

Height: 15 mm

Weight: 17 g

Burnt Orange (R946)

0414220 - #0884955041222

Length: 150 mm

Width: 17 mm

Height: 15 mm

Weight: 17 g

Satin (Y129)

0415230 - #0884955042236

Length: 150 mm

Width: 17 mm

Height: 15 mm

Weight: 17 g

Dusky Pink (O518)

0414490 - #0884955041499

Length: 150 mm

Width: 17 mm

Height: 15 mm

Weight: 16 g

Putty (O618)

0415140 - #0884955042144

Length: 150 mm

Width: 17 mm

Height: 15 mm

Weight: 16 g

Sunkissed Pink (O228)

0415320 - #0884955042328

Length: 150 mm

Width: 17 mm

Height: 15 mm

Weight: 16 g

Coral (R937)

0414430 - #0884955041437

Length: 150 mm

Width: 17 mm

Height: 15 mm

Weight: 16 g

Soft Peach (O138)

0415290 - #0884955042298

Length: 150 mm

Width: 17 mm

Height: 15 mm

Weight: 16 g

Peach (O148)

0415020 - #0884955042021

Length: 150 mm

Width: 17 mm

Height: 15 mm

Weight: 17 g

Mango (O248)

0414820 - #0884955041826

Length: 150 mm

Width: 17 mm

Height: 15 mm

Weight: 16 g

Pastel Pink (R738)

0415000 - #0884955042007

Length: 150 mm

Width: 17 mm

Height: 15 mm

Weight: 16 g

Cocktail Pink (R438)

0414350 - #0884955041352

Length: 150 mm

Width: 17 mm

Height: 15 mm

Weight: 17 g

Salmon Pink (R547)

0415210 - #0884955042212

Length: 150 mm

Width: 17 mm

Height: 15 mm

Weight: 17 g

Antique Pink (R346)

0414050 - #0884955041055

Length: 150 mm

Width: 17 mm

Height: 15 mm

Weight: 16 g

Lipstick Red (R576)

0414780 - #0884955041789

Length: 150 mm

Width: 17 mm

Height: 15 mm

Weight: 16 g

Red (R666)

0415160 - #0884955042168

Length: 150 mm

Width: 17 mm

Height: 15 mm

Weight: 16 g

Berry Red (R665)

0414120 - #0884955041123

Length: 150 mm

Width: 17 mm

Height: 15 mm

Weight: 16 g

Ruby (R455)

0415190 - #0884955042199

Length: 150 mm

Width: 17 mm

Height: 15 mm

Weight: 17 g

Poppy (R565)

0415080 - #0884955042083

Length: 150 mm

Width: 17 mm

Height: 15 mm

Weight: 16 g

Crimson (R445)

0414450 - #0884955041451

Length: 150 mm

Width: 17 mm

Height: 15 mm

Weight: 16 g

Cardinal Red (R244)

0414280 - #0884955041284

Length: 150 mm

Width: 17 mm

Height: 15 mm

Weight: 17 g

Burgundy (R424)

0414210 - #0884955041215

Length: 150 mm

Width: 17 mm

Height: 15 mm

Weight: 17 g

Maroon (M544)

0414840 - #0884955041840

Length: 150 mm

Width: 17 mm

Height: 15 mm

Weight: 16 g

Blossom (M428)

0414150 - #0884955041154

Length: 150 mm

Width: 17 mm

Height: 15 mm

Weight: 16 g

Pale Pink (R519)

0414960 - #0884955041963

Length: 150 mm

Width: 17 mm

Height: 15 mm

Weight: 17 g

Baby Pink (R228)

0414110 - #0884955041116

Length: 150 mm

Width: 17 mm

Height: 15 mm

Weight: 17 g

Rose Pink (M727)

0415170 - #0884955042175

Length: 150 mm

Width: 17 mm

Height: 15 mm

Weight: 17 g

Cerise (M647)

0414300 - #0884955041307

Length: 150 mm

Width: 17 mm

Height: 15 mm

Weight: 16 g

Hot Pink (R365)

0414630 - #0884955041635

Length: 150 mm

Width: 17 mm

Height: 15 mm

Weight: 16 g

Magenta (M865)

0414800 - #0884955041802

Length: 150 mm

Width: 17 mm

Height: 15 mm

Weight: 16 g

Carmine (R156)

0414290 - #0884955041291

Length: 150 mm

Width: 17 mm

Height: 15 mm

Weight: 17 g

Dusky Rose (R327)

0414500 - #0884955041505

Length: 150 mm

Width: 17 mm

Height: 15 mm

Weight: 17 g

Pink Carnation (M328)

0415060 - #0884955042069

Length: 150 mm

Width: 17 mm

Height: 15 mm

Weight: 17 g

Fuchsia Pink (M137)

0414540 - #0884955041543

Length: 150 mm

Width: 17 mm

Height: 15 mm

Weight: 16 g

Slate (V715)

0415260 - #0884955042267

Length: 150 mm

Width: 17 mm

Height: 15 mm

Weight: 17 g

Amethyst (V626)

0414040 - #0884955041048

Length: 150 mm

Width: 17 mm

Height: 15 mm

Weight: 17 g

Violet (V245)

0415410 - #0884955042410

Length: 150 mm

Width: 17 mm

Height: 15 mm

Weight: 16 g

Purple (V546)

0415130 - #0884955042137

Length: 150 mm

Width: 17 mm

Height: 15 mm

Weight: 16 g

Mulberry (V865)

0414900 - #0884955041901

Length: 150 mm

Width: 17 mm

Height: 15 mm

Weight: 17 g

Plum (V735)

0415070 - #0884955042076

Length: 150 mm

Width: 17 mm

Height: 15 mm

Weight: 16 g

Aubergine (V524)

0414090 - #0884955041093

Length: 150 mm

Width: 17 mm

Height: 15 mm

Weight: 16 g

Lavender (V518)

0414720 - #0884955041727

Length: 150 mm

Width: 17 mm

Height: 15 mm

Weight: 16 g

Orchid (V528)

0414950 - #0884955041956

Length: 150 mm

Width: 17 mm

Height: 15 mm

Weight: 17 g

Lilac (V327)

0414750 - #0884955041758

Length: 150 mm

Width: 17 mm

Height: 15 mm

Weight: 17 g

Bluebell (V127)

0414170 - #0884955041178

Length: 150 mm

Width: 17 mm

Height: 15 mm

Weight: 17 g

Prussian (V464)

0415110 - #0884955042113

Length: 150 mm

Width: 17 mm

Height: 15 mm

Weight: 17 g

Blue Pearl (B528)

0414160 - #0884955041161

Length: 150 mm

Width: 17 mm

Height: 15 mm

Weight: 16 g

Cornflower (B617)

0414440 - #0884955041444

Length: 150 mm

Width: 17 mm

Height: 15 mm

Weight: 15 g

Cobalt Blue (B637)

0414340 - #0884955041345

Length: 150 mm

Width: 17 mm

Height: 15 mm

Weight: 16 g

China Blue (B736)

0414320 - #0884955041321

Length: 150 mm

Width: 17 mm

Height: 15 mm

Weight: 17 g

Midnight Blue (B624)

0414870 - #0884955041871

Length: 150 mm

Width: 17 mm

Height: 15 mm

Weight: 16 g

Indigo Blue (V234)

0414690 - #0884955041697

Length: 150 mm

Width: 17 mm

Height: 15 mm

Weight: 16 g

Royal Blue (V264)

0415180 - #0884955042182

Length: 150 mm

Width: 17 mm

Height: 15 mm

Weight: 16 g

True Blue (B555)

0415360 - #0884955042366

Length: 150 mm

Width: 17 mm

Height: 15 mm

Weight: 17 g

Azure (B346)

0414100 - #0884955041109

Length: 150 mm

Width: 17 mm

Height: 15 mm

Weight: 16 g

Sky Blue (B137)

0415250 - #0884955042250

Length: 150 mm

Width: 17 mm

Height: 15 mm

Weight: 17 g

Cyan (C847)

0414460 - #0884955041468

Length: 150 mm

Width: 17 mm

Height: 15 mm

Weight: 17 g

Pastel Blue (C719)

0414980 - #0884955041987

Length: 150 mm

Width: 17 mm

Height: 15 mm

Weight: 16 g

Powder Blue (B119)

0415090 - #0884955042090

Length: 150 mm

Width: 17 mm

Height: 15 mm

Weight: 16 g

Arctic Blue (B138)

0414080 - #0884955041086

Length: 150 mm

Width: 17 mm

Height: 15 mm

Weight: 17 g

Denim Blue (C917)

0414470 - #0884955041475

Length: 150 mm

Width: 17 mm

Height: 15 mm

Weight: 17 g

Aegean (B146)

0414010 - #0884955041017

Length: 150 mm

Width: 17 mm

Height: 15 mm

Weight: 17 g

French Navy (B445)

0414530 - #0884955041536

Length: 150 mm

Width: 17 mm

Height: 15 mm

Weight: 16 g

Cool Aqua (C429)

0414370 - #0884955041376

Length: 150 mm

Width: 17 mm

Height: 15 mm

Weight: 17 g

Duck Egg (C528)

0414480 - #0884955041482

Length: 150 mm

Width: 17 mm

Height: 15 mm

Weight: 16 g

Turquoise (C247)

0415380 - #0884955042380

Length: 150 mm

Width: 17 mm

Height: 15 mm

Weight: 17 g

Marine (C446)

0414830 - #0884955041833

Length: 150 mm

Width: 17 mm

Height: 15 mm

Weight: 17 g

Petrol Blue (C824)

0415040 - #0884955042045

Length: 150 mm

Width: 17 mm

Height: 15 mm

Weight: 16 g

Holly (G724)

0414610 - #0884955041611

Length: 150 mm

Width: 17 mm

Height: 15 mm

Weight: 17 g

Pine (G635)

0415050 - #0884955042052

Length: 150 mm

Width: 17 mm

Height: 15 mm

Weight: 17 g

Emerald (G657)

0414510 - #0884955041512

Length: 150 mm

Width: 17 mm

Height: 15 mm

Weight: 16 g

Green (G847)

0414580 - #0884955041581

Length: 150 mm

Width: 17 mm

Height: 15 mm

Weight: 15 g

Lush Green (G756)

0414790 - #0884955041796

Length: 150 mm

Width: 17 mm

Height: 15 mm

Weight: 17 g

Pastel Green (G829)

0414990 - #0884955041994

Length: 150 mm

Width: 17 mm

Height: 15 mm

Weight: 16 g

Soft Green (G817)

0415270 - #0884955042274

Length: 150 mm

Width: 17 mm

Height: 15 mm

Weight: 16 g

Mint Green (G637)

0414880 - #0884955041888

Length: 150 mm

Width: 17 mm

Height: 15 mm

Weight: 16 g

Grass (G457)

0414570 - #0884955041574

Length: 150 mm

Width: 17 mm

Height: 15 mm

Weight: 17 g

Forrest Green (G356)

0414520 - #0884955041529

Length: 150 mm

Width: 17 mm

Height: 15 mm

Weight: 16 g

Tea Green (G619)

0415340 - #0884955042342

Length: 150 mm

Width: 17 mm

Height: 15 mm

Weight: 15 g

Grey Green (G917)

0414590 - #0884955041598

Length: 150 mm

Width: 17 mm

Height: 15 mm

Weight: 16 g

Meadow Green (G339)

0414860 - #0884955041864

Length: 150 mm

Width: 17 mm

Height: 15 mm

Weight: 16 g

Apple (G338)

0414060 - #0884955041062

Length: 150 mm

Width: 17 mm

Height: 15 mm

Weight: 16 g

Leaf Green (G258)

0414730 - #0884955041734

Length: 150 mm

Width: 17 mm

Height: 15 mm

Weight: 16 g

Bright Green (G267)

0414190 - #0884955041192

Length: 150 mm

Width: 17 mm

Height: 15 mm

Weight: 17 g

Lime Zest (G159)

0414770 - #0884955041772

Length: 150 mm

Width: 17 mm

Height: 15 mm

Weight: 17 g

Lime Green (G178)

0414760 - #0884955041765

Length: 150 mm

Width: 17 mm

Height: 15 mm

Weight: 17 g

Pear Green (Y635)

0415030 - #0884955042038

Length: 150 mm

Width: 17 mm

Height: 15 mm

Weight: 16 g

Marsh Green (G136)

0414850 - #0884955041857

Length: 150 mm

Width: 17 mm

Height: 15 mm

Weight: 17 g

Olive Green (Y724)

0414930 - #0884955041932

Length: 150 mm

Width: 17 mm

Height: 15 mm

Weight: 17 g

Moss (Y334)

0414890 - #0884955041895

Length: 150 mm

Width: 17 mm

Height: 15 mm

Weight: 15 g

Pastel Beige (Y717)

0414970 - #0884955041970

Length: 150 mm

Width: 17 mm

Height: 15 mm

Weight: 17 g

Khaki (Y616)

0414710 - #0884955041710

Length: 150 mm

Width: 17 mm

Height: 15 mm

Weight: 15 g

Sandstone (O928)

0415220 - #0884955042229

Length: 150 mm

Width: 17 mm

Height: 15 mm

Weight: 16 g

Caramel (O727)

0414270 - #0884955041277

Length: 150 mm

Width: 17 mm

Height: 15 mm

Weight: 16 g

Cocoa (O535)

0414360 - #0884955041369

Length: 150 mm

Width: 17 mm

Height: 15 mm

Weight: 17 g

Umber (O615)

0415390 - #0884955042397

Length: 150 mm

Width: 17 mm

Height: 15 mm

Weight: 17 g

Cinnamon (O427)

0414330 - #0884955041338

Length: 150 mm

Width: 17 mm

Height: 15 mm

Weight: 16 g

Raw Sienna (O646)

0415150 - #0884955042151

Length: 150 mm

Width: 17 mm

Height: 15 mm

Weight: 16 g

Tan (O528)

0415330 - #0884955042335

Length: 150 mm

Width: 17 mm

Height: 15 mm

Weight: 16 g

Terracotta (O335)

0415350 - #0884955042359

Length: 150 mm

Width: 17 mm

Height: 15 mm

Weight: 17 g

Burnt Umber (R646)

0414240 - #0884955041246

Length: 150 mm

Width: 17 mm

Height: 15 mm

Weight: 17 g

Chestnut (R934)

0414310 - #0884955041314

Length: 150 mm

Width: 17 mm

Height: 15 mm

Weight: 17 g

Henna (O225)

0414600 - #0884955041604

Length: 150 mm

Width: 17 mm

Height: 15 mm

Weight: 17 g

Walnut (O124)

0415420 - #0884955042427

Length: 150 mm

Width: 17 mm

Height: 15 mm

Weight: 17 g

Burnt Sienna (O324)

0414230 - #0884955041239

Length: 150 mm

Width: 17 mm

Height: 15 mm

Weight: 15 g

Shale (R215)

0415240 - #0884955042243

Length: 150 mm

Width: 17 mm

Height: 15 mm

Weight: 17 g

Warm Grey 1 (Wg1)

0415430 - #0884955042434

Length: 150 mm

Width: 17 mm

Height: 15 mm

Weight: 16 g

Warm Grey 2 (Wg2)

0415440 - #0884955042441

Length: 150 mm

Width: 17 mm

Height: 15 mm

Weight: 16 g

Warm Grey 3 (Wg3)

0415450 - #0884955042458

Length: 150 mm

Width: 17 mm

Height: 15 mm

Weight: 16 g

Warm Grey 4 (Wg4)

0415460 - #0884955042465

Length: 150 mm

Width: 17 mm

Height: 15 mm

Weight: 16 g

Warm Grey 5 (Wg5)

0415470 - #0884955042472

Length: 150 mm

Width: 17 mm

Height: 15 mm

Weight: 15 g

Ice Grey 1 (Ig1)

0414640 - #0884955041642

Length: 150 mm

Width: 17 mm

Height: 15 mm

Weight: 16 g

Ice Grey 2 (Ig2)

0414650 - #0884955041659

Length: 150 mm

Width: 17 mm

Height: 15 mm

Weight: 16 g

Ice Grey 3 (Ig3)

0414660 - #0884955041666

Length: 150 mm

Width: 17 mm

Height: 15 mm

Weight: 16 g

Ice Grey 4 (Ig4)

0414670 - #0884955041673

Length: 150 mm

Width: 17 mm

Height: 15 mm

Weight: 16 g

Ice Grey 5 (Ig5)

0414680 - #0884955041680

Length: 150 mm

Width: 17 mm

Height: 15 mm

Weight: 15 g

Cool Grey 1 (Cg1)

0414380 - #0884955041383

Length: 150 mm

Width: 17 mm

Height: 15 mm

Weight: 16 g

Cool Grey 2 (Cg2)

0414390 - #0884955041390

Length: 150 mm

Width: 17 mm

Height: 15 mm

Weight: 16 g

Cool Grey 3 (Cg3)

0414400 - #0884955041406

Length: 150 mm

Width: 17 mm

Height: 15 mm

Weight: 16 g

Cool Grey 4 (Cg4)

0414410 - #0884955041413

Length: 150 mm

Width: 17 mm

Height: 15 mm

Weight: 16 g

Cool Grey 5 (Cg5)

0414420 - #0884955041420

Length: 150 mm

Width: 17 mm

Height: 15 mm

Weight: 16 g

Black (Xb)

0414130 - #884955041130

Length: 150 mm

Width: 17 mm

Height: 15 mm

Weight: 16 g

Blender (Bl)

0414140 - #0884955041147

Length: 150 mm

Width: 17 mm

Height: 15 mm

Weight: 16 g
 
Barcode
Length (mm)
Width (mm)
Height (mm)
Weight (g)
0884955041703
150
17
15
16

EDP:0415100

Primrose (Y919)

0884955042106
150
17
15
17

EDP:0414250

Buttercup (Y417)

0884955041253
150
17
15
16

EDP:0415280

Soft Lime (Y828)

0884955042281
150
17
15
16

EDP:0415370

Tulip Yellow (Y337)

0884955042373
150
17
15
16
0884955041741
150
17
15
17

EDP:0415480

Yellow (Y657)

0884955042489
150
17
15
17

EDP:0414260

Canary (Y367)

0884955041260
150
17
15
17

EDP:0415310

Sunflower (Y156)

0884955042311
150
17
15
17

EDP:0414020

Almond (O819)

0884955041024
150
17
15
16
0884955041185
150
17
15
17

EDP:0415200

Saffron (O739)

0884955042205
150
17
15
16

EDP:0415400

Vanilla (O929)

0884955042403
150
17
15
16

EDP:0415010

Pastel Yellow (O949)

0884955042014
150
17
15
17

EDP:0414910

Mustard (O948)

0884955041918
150
17
15
16

EDP:0414920

Oatmeal (O628)

0884955041925
150
17
15
17

EDP:0414070

Apricot (O538)

0884955041079
150
17
15
17

EDP:0414620

Honeycomb (O547)

0884955041628
150
17
15
17
0884955041567
150
17
15
16
0884955041031
150
17
15
17

EDP:0415120

Pumpkin (O467)

0884955042120
150
17
15
17

EDP:0414550

Ginger (O136)

0884955041550
150
17
15
17

EDP:0414200

Bright Orange (O177)

0884955041208
150
17
15
17

EDP:0414810

Mandarin (O277)

0884955041819
150
17
15
16

EDP:0414940

Orange (R866)

0884955041949
150
17
15
16
0884955042304
150
17
15
17

EDP:0414220

Burnt Orange (R946)

0884955041222
150
17
15
17
0884955042236
150
17
15
17

EDP:0414490

Dusky Pink (O518)

0884955041499
150
17
15
16
0884955042144
150
17
15
16

EDP:0415320

Sunkissed Pink (O228)

0884955042328
150
17
15
16
0884955041437
150
17
15
16

EDP:0415290

Soft Peach (O138)

0884955042298
150
17
15
16
0884955042021
150
17
15
17
0884955041826
150
17
15
16

EDP:0415000

Pastel Pink (R738)

0884955042007
150
17
15
16

EDP:0414350

Cocktail Pink (R438)

0884955041352
150
17
15
17

EDP:0415210

Salmon Pink (R547)

0884955042212
150
17
15
17

EDP:0414050

Antique Pink (R346)

0884955041055
150
17
15
16

EDP:0414780

Lipstick Red (R576)

0884955041789
150
17
15
16
0884955042168
150
17
15
16

EDP:0414120

Berry Red (R665)

0884955041123
150
17
15
16
0884955042199
150
17
15
17
0884955042083
150
17
15
16

EDP:0414450

Crimson (R445)

0884955041451
150
17
15
16

EDP:0414280

Cardinal Red (R244)

0884955041284
150
17
15
17

EDP:0414210

Burgundy (R424)

0884955041215
150
17
15
17

EDP:0414840

Maroon (M544)

0884955041840
150
17
15
16

EDP:0414150

Blossom (M428)

0884955041154
150
17
15
16

EDP:0414960

Pale Pink (R519)

0884955041963
150
17
15
17

EDP:0414110

Baby Pink (R228)

0884955041116
150
17
15
17

EDP:0415170

Rose Pink (M727)

0884955042175
150
17
15
17

EDP:0414300

Cerise (M647)

0884955041307
150
17
15
16

EDP:0414630

Hot Pink (R365)

0884955041635
150
17
15
16

EDP:0414800

Magenta (M865)

0884955041802
150
17
15
16

EDP:0414290

Carmine (R156)

0884955041291
150
17
15
17

EDP:0414500

Dusky Rose (R327)

0884955041505
150
17
15
17

EDP:0415060

Pink Carnation (M328)

0884955042069
150
17
15
17

EDP:0414540

Fuchsia Pink (M137)

0884955041543
150
17
15
16
0884955042267
150
17
15
17

EDP:0414040

Amethyst (V626)

0884955041048
150
17
15
17

EDP:0415410

Violet (V245)

0884955042410
150
17
15
16

EDP:0415130

Purple (V546)

0884955042137
150
17
15
16

EDP:0414900

Mulberry (V865)

0884955041901
150
17
15
17
0884955042076
150
17
15
16

EDP:0414090

Aubergine (V524)

0884955041093
150
17
15
16

EDP:0414720

Lavender (V518)

0884955041727
150
17
15
16

EDP:0414950

Orchid (V528)

0884955041956
150
17
15
17
0884955041758
150
17
15
17

EDP:0414170

Bluebell (V127)

0884955041178
150
17
15
17

EDP:0415110

Prussian (V464)

0884955042113
150
17
15
17

EDP:0414160

Blue Pearl (B528)

0884955041161
150
17
15
16

EDP:0414440

Cornflower (B617)

0884955041444
150
17
15
15

EDP:0414340

Cobalt Blue (B637)

0884955041345
150
17
15
16

EDP:0414320

China Blue (B736)

0884955041321
150
17
15
17

EDP:0414870

Midnight Blue (B624)

0884955041871
150
17
15
16

EDP:0414690

Indigo Blue (V234)

0884955041697
150
17
15
16

EDP:0415180

Royal Blue (V264)

0884955042182
150
17
15
16

EDP:0415360

True Blue (B555)

0884955042366
150
17
15
17
0884955041109
150
17
15
16

EDP:0415250

Sky Blue (B137)

0884955042250
150
17
15
17
0884955041468
150
17
15
17

EDP:0414980

Pastel Blue (C719)

0884955041987
150
17
15
16

EDP:0415090

Powder Blue (B119)

0884955042090
150
17
15
16

EDP:0414080

Arctic Blue (B138)

0884955041086
150
17
15
17

EDP:0414470

Denim Blue (C917)

0884955041475
150
17
15
17

EDP:0414010

Aegean (B146)

0884955041017
150
17
15
17

EDP:0414530

French Navy (B445)

0884955041536
150
17
15
16

EDP:0414370

Cool Aqua (C429)

0884955041376
150
17
15
17

EDP:0414480

Duck Egg (C528)

0884955041482
150
17
15
16

EDP:0415380

Turquoise (C247)

0884955042380
150
17
15
17

EDP:0414830

Marine (C446)

0884955041833
150
17
15
17

EDP:0415040

Petrol Blue (C824)

0884955042045
150
17
15
16
0884955041611
150
17
15
17
0884955042052
150
17
15
17

EDP:0414510

Emerald (G657)

0884955041512
150
17
15
16
0884955041581
150
17
15
15

EDP:0414790

Lush Green (G756)

0884955041796
150
17
15
17

EDP:0414990

Pastel Green (G829)

0884955041994
150
17
15
16

EDP:0415270

Soft Green (G817)

0884955042274
150
17
15
16

EDP:0414880

Mint Green (G637)

0884955041888
150
17
15
16
0884955041574
150
17
15
17

EDP:0414520

Forrest Green (G356)

0884955041529
150
17
15
16

EDP:0415340

Tea Green (G619)

0884955042342
150
17
15
15

EDP:0414590

Grey Green (G917)

0884955041598
150
17
15
16

EDP:0414860

Meadow Green (G339)

0884955041864
150
17
15
16
0884955041062
150
17
15
16

EDP:0414730

Leaf Green (G258)

0884955041734
150
17
15
16

EDP:0414190

Bright Green (G267)

0884955041192
150
17
15
17

EDP:0414770

Lime Zest (G159)

0884955041772
150
17
15
17

EDP:0414760

Lime Green (G178)

0884955041765
150
17
15
17

EDP:0415030

Pear Green (Y635)

0884955042038
150
17
15
16

EDP:0414850

Marsh Green (G136)

0884955041857
150
17
15
17

EDP:0414930

Olive Green (Y724)

0884955041932
150
17
15
17
0884955041895
150
17
15
15

EDP:0414970

Pastel Beige (Y717)

0884955041970
150
17
15
17
0884955041710
150
17
15
15

EDP:0415220

Sandstone (O928)

0884955042229
150
17
15
16

EDP:0414270

Caramel (O727)

0884955041277
150
17
15
16
0884955041369
150
17
15
17
0884955042397
150
17
15
17

EDP:0414330

Cinnamon (O427)

0884955041338
150
17
15
16

EDP:0415150

Raw Sienna (O646)

0884955042151
150
17
15
16
0884955042335
150
17
15
16

EDP:0415350

Terracotta (O335)

0884955042359
150
17
15
17

EDP:0414240

Burnt Umber (R646)

0884955041246
150
17
15
17

EDP:0414310

Chestnut (R934)

0884955041314
150
17
15
17
0884955041604
150
17
15
17

EDP:0415420

Walnut (O124)

0884955042427
150
17
15
17

EDP:0414230

Burnt Sienna (O324)

0884955041239
150
17
15
15
0884955042243
150
17
15
17

EDP:0415430

Warm Grey 1 (Wg1)

0884955042434
150
17
15
16

EDP:0415440

Warm Grey 2 (Wg2)

0884955042441
150
17
15
16

EDP:0415450

Warm Grey 3 (Wg3)

0884955042458
150
17
15
16

EDP:0415460

Warm Grey 4 (Wg4)

0884955042465
150
17
15
16

EDP:0415470

Warm Grey 5 (Wg5)

0884955042472
150
17
15
15

EDP:0414640

Ice Grey 1 (Ig1)

0884955041642
150
17
15
16

EDP:0414650

Ice Grey 2 (Ig2)

0884955041659
150
17
15
16

EDP:0414660

Ice Grey 3 (Ig3)

0884955041666
150
17
15
16

EDP:0414670

Ice Grey 4 (Ig4)

0884955041673
150
17
15
16

EDP:0414680

Ice Grey 5 (Ig5)

0884955041680
150
17
15
15

EDP:0414380

Cool Grey 1 (Cg1)

0884955041383
150
17
15
16

EDP:0414390

Cool Grey 2 (Cg2)

0884955041390
150
17
15
16

EDP:0414400

Cool Grey 3 (Cg3)

0884955041406
150
17
15
16

EDP:0414410

Cool Grey 4 (Cg4)

0884955041413
150
17
15
16

EDP:0414420

Cool Grey 5 (Cg5)

0884955041420
150
17
15
16
884955041130
150
17
15
16
0884955041147
150
17
15
16