Winsor & Newton Promarkers Watercolour Sets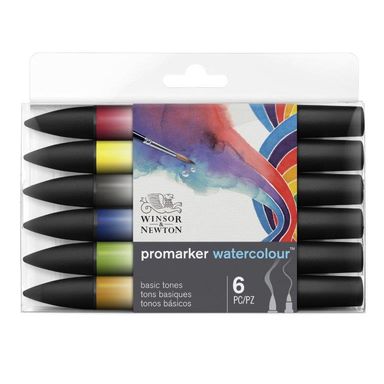 Winsor & Newton Promarker Watercolour is a high pigmented twin tipped marker, offering a perfect introduction to colouring with a lightfast watercolour marker. The Promarker Watercolours have all the same attributes as watercolour paint.
Promarker Watercolours feature two inbuilt nibs.
Fine Bullet Nib ideal for precise detailing and line work.
Broad Nib great for quick visuals and filling in larger areas.
Each Winsor & Newton Promarker Watercolour Set contains a specially selected range of colours.
Set 6 Basic Tones contains:
Alizarin Crimson Hue, Cadmium Yellow Hue, Ivory Black, Prussian Blue Hue, Sap Green, Yellow Ochre
Set 6 Floral Tones contains:
Pale Rose, Quinacridone Magenta, Mid Blue, Lemon Yellow Hue, Hooker's Green, Burnt Red
Set 6 Foliage Tones contains:
Cadmium Yellow Hue, Sap Green, Hooker's Green, Raw Umber, Burnt Red, Dioxazine Violet
Set 6 Skyscape Tones contains:
Raw Sienna, Cadmium Orange Hue, Pale Rose, Cerulean Blue Hue, Indigo, Payne's Gray
Set 6 Basic Tones

0067610 - #884955073919

Length: 150 mm

Width: 120 mm

Height: 16 mm

Weight: 110 g

Set 6 Floral Tones

0067620 - #884955073933

Length: 152 mm

Width: 120 mm

Height: 16 mm

Weight: 109 g

Set 6 Foliage Tones

0067630 - #884955073995

Length: 152 mm

Width: 120 mm

Height: 16 mm

Weight: 109 g

Set 6 Skyscape Tones

0067640 - #884955073988

Length: 152 mm

Width: 120 mm

Height: 16 mm

Weight: 109 g
 
Barcode
Length (mm)
Width (mm)
Height (mm)
Weight (g)

EDP:0067610

Set 6 Basic Tones

884955073919
150
120
16
110

EDP:0067620

Set 6 Floral Tones

884955073933
152
120
16
109

EDP:0067630

Set 6 Foliage Tones

884955073995
152
120
16
109

EDP:0067640

Set 6 Skyscape Tones

884955073988
152
120
16
109