Reeves Artists' Acrylic Colour 200ml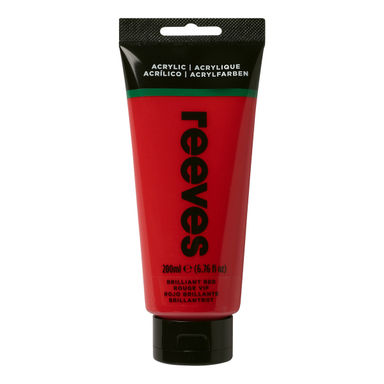 Reeves Artists' Acrylic Paint is extremely versatile and comes in a range of beautifully vibrant colours. They are highly pigmented, flexible when dry and can be easily cleaned up with water.
Reeves Acrylics can be used straight from the tube to create impasto effects and build volume or can be diluted with water to use for watercolour techniques.
This quality range of acrylics paints has excellent lightfastness and is suitable for a variety of surfaces including canvas, paper, wood, fabric and glass.
Perfect for students, amateur artists or accomplished painters requiring large quantities of paint for large scale canvases.
Lemon Yellow

0008420 - #0780804859379

Length: 180 mm

Width: 78 mm

Height: 51 mm

Weight: 254 g

Pale Lemon

0008480 - #780804859720

Length: 180 mm

Width: 78 mm

Height: 51 mm

Weight: 263 g

Medium Yellow

0017340 - #30780804859461

Length: 180 mm

Width: 78 mm

Height: 51 mm

Weight: 248 g

Cad Yellow Deep

0008340 - #0780804859713

Length: 180 mm

Width: 78 mm

Height: 51 mm

Weight: 260 g

Deep Yellow

0008390 - #0780804859539

Length: 180 mm

Width: 78 mm

Height: 51 mm

Weight: 252 g

Lime Yellow

0008430 - #0780804859706

Length: 180 mm

Width: 78 mm

Height: 51 mm

Weight: 255 g

Yellow Ochre

0008630 - #0780804859386

Length: 180 mm

Width: 78 mm

Height: 51 mm

Weight: 266 g

Sand

0008560 - #0780804859638

Length: 180 mm

Width: 78 mm

Height: 51 mm

Weight: 274 g

Orange

0008460 - #0780804859522

Length: 180 mm

Width: 78 mm

Height: 51 mm

Weight: 252 g

Brilliant Red

0008310 - #0780804859409

Length: 180 mm

Width: 78 mm

Height: 51 mm

Weight: 253 g

Vermilion

0008600 - #780804859515

Length: 180 mm

Width: 78 mm

Height: 51 mm

Weight: 252 g

Rose Madder

0008540 - #0780804859577

Length: 180 mm

Width: 78 mm

Height: 51 mm

Weight: 254 g

Rose Red

0008550 - #0780804859737

Length: 180 mm

Width: 78 mm

Height: 51 mm

Weight: 264 g

Violet

0008610 - #0780804859416

Length: 180 mm

Width: 78 mm

Height: 51 mm

Weight: 254 g

Lavender

0008410 - #0780804859690

Length: 180 mm

Width: 78 mm

Height: 51 mm

Weight: 265 g

Powder Blue

0008500 - #0780804859751

Length: 180 mm

Width: 78 mm

Height: 51 mm

Weight: 278 g

Cerulean Blue

0008350 - #0780804859485

Length: 180 mm

Width: 78 mm

Height: 51 mm

Weight: 271 g

Cobalt Blue

0008360 - #0780804859478

Length: 180 mm

Width: 78 mm

Height: 51 mm

Weight: 266 g

Ultramarine

0008590 - #0780804859423

Length: 180 mm

Width: 78 mm

Height: 51 mm

Weight: 272 g

Prussian Blue Hue

0008520 - #0780804859782

Length: 180 mm

Width: 78 mm

Height: 51 mm

Weight: 252 g

Deep Turquoise

0008380 - #0780804859768

Length: 180 mm

Width: 78 mm

Height: 51 mm

Weight: 267 g

Pale Olive

0008490 - #0780804859744

Length: 180 mm

Width: 78 mm

Height: 51 mm

Weight: 263 g

Chromium Oxide Green

0008470 - #780804290950

Length: 180 mm

Width: 78 mm

Height: 51 mm

Weight: 271 g

Viridian

0008620 - #780804859492

Length: 180 mm

Width: 78 mm

Height: 51 mm

Weight: 248 g

Raw Umber

0008530 - #0780804859447

Length: 180 mm

Width: 78 mm

Height: 51 mm

Weight: 265 g

Mars Black

0008440 - #0780804859393

Length: 180 mm

Width: 78 mm

Height: 51 mm

Weight: 254 g

Burnt Umber

0008330 - #0780804859454

Length: 180 mm

Width: 78 mm

Height: 51 mm

Weight: 274 g

Burnt Sienna

0008320 - #0780804859461

Length: 180 mm

Width: 78 mm

Height: 51 mm

Weight: 279 g

Gold

0008400 - #0780804859546

Length: 180 mm

Width: 78 mm

Height: 51 mm

Weight: 271 g

Paynes Grey

0008510 - #0780804859430

Length: 180 mm

Width: 78 mm

Height: 51 mm

Weight: 252 g

Medium Grey

0008450 - #0780804859775

Length: 180 mm

Width: 78 mm

Height: 51 mm

Weight: 266 g

Silver

0008570 - #0780804859553

Length: 180 mm

Width: 78 mm

Height: 51 mm

Weight: 272 g

Titanium White

0008580 - #0780804859362

Length: 180 mm

Width: 78 mm

Height: 51 mm

Weight: 272 g
 
Barcode
Length (mm)
Width (mm)
Height (mm)
Weight (g)
0780804859379
180
78
51
254
780804859720
180
78
51
263

EDP:0017340

Medium Yellow

30780804859461
180
78
51
248

EDP:0008340

Cad Yellow Deep

0780804859713
180
78
51
260
0780804859539
180
78
51
252
0780804859706
180
78
51
255
0780804859386
180
78
51
266
0780804859638
180
78
51
274
0780804859522
180
78
51
252

EDP:0008310

Brilliant Red

0780804859409
180
78
51
253
780804859515
180
78
51
252
0780804859577
180
78
51
254
0780804859737
180
78
51
264
0780804859416
180
78
51
254
0780804859690
180
78
51
265
0780804859751
180
78
51
278

EDP:0008350

Cerulean Blue

0780804859485
180
78
51
271
0780804859478
180
78
51
266
0780804859423
180
78
51
272

EDP:0008520

Prussian Blue Hue

0780804859782
180
78
51
252

EDP:0008380

Deep Turquoise

0780804859768
180
78
51
267
0780804859744
180
78
51
263

EDP:0008470

Chromium Oxide Green

780804290950
180
78
51
271
780804859492
180
78
51
248
0780804859447
180
78
51
265
0780804859393
180
78
51
254
0780804859454
180
78
51
274
0780804859461
180
78
51
279
0780804859546
180
78
51
271
0780804859430
180
78
51
252
0780804859775
180
78
51
266
0780804859553
180
78
51
272

EDP:0008580

Titanium White

0780804859362
180
78
51
272