Liquitex Acrylic Inks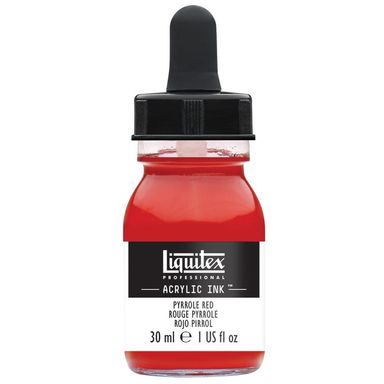 Liquitex Professional Acrylic Ink is a range of extremely fluid acrylic paints that use super-fine pigments in a state-of-the-art acrylic emulsion. They dry quickly, are permanent, water resistant and non-clogging, which makes them ideal for a variety of techniques from watercolour effects to stamping. Liquitex Acrylic inks are compatible with all Liquitex acrylic products.
Liquitex Muted Collection: 5 colours matched across Acrylic Ink and Acrylic Heavy Body that open up new artistic possibilities. This is the first time Liquitex has introduced a colour collection using a special blend of pigments. Featuring unique tones with a muted, subtle character inspired by the latest trends.
Use Liquitex Muted Acrylic Inks with the matching Liquitex Muted Acrylic Heavy Body Colours as they are fully intermixable together and with other Liquitex products.
Bismuth Yellow 155 30ml

0087400 - #0887452047681

Length: 39 mm

Width: 39 mm

Height: 98 mm

Weight: 80 g

Yellow Medium Azo 412 30ml

0384330 - #0094376975970

Length: 39 mm

Width: 39 mm

Height: 98 mm

Weight: 85 g

Cadmium Yellow Light Hue 159 30ml

0384278 - #0094376975819

Length: 39 mm

Width: 39 mm

Height: 98 mm

Weight: 84 g

Yellow Orange Azo 414 30ml

0384332 - #0094376975987

Length: 39 mm

Width: 39 mm

Height: 98 mm

Weight: 80 g

Yellow Deep 295 30ml

0087460 - #0887452047735

Length: 39 mm

Width: 39 mm

Height: 98 mm

Weight: 80 g

Yellow Orange 298 30ml

0087450 - #0887452047728

Length: 39 mm

Width: 39 mm

Height: 98 mm

Weight: 80 g

Bright Orange 720 30ml

0087370 - #0887452047650

Length: 39 mm

Width: 39 mm

Height: 98 mm

Weight: 80 g

Vivid Red Orange 620 30ml

0384328 - #0094376976045

Length: 39 mm

Width: 39 mm

Height: 98 mm

Weight: 80 g

Naphthol Crimson 292 30ml

0384294 - #0094376975871

Length: 39 mm

Width: 39 mm

Height: 98 mm

Weight: 85 g

Pyrrole Red 321 30ml

0384306 - #0094376975932

Length: 39 mm

Width: 39 mm

Height: 98 mm

Weight: 86 g

Naphthol Red Light 294 30ml

0087480 - #0887452048244

Length: 39 mm

Width: 39 mm

Height: 98 mm

Weight: 80 g

Rubine Red 388 30ml

0087390 - #0887452047674

Length: 39 mm

Width: 39 mm

Height: 98 mm

Weight: 80 g

Quinacridone Magenta 114 30ml

0384308 - #0094376975772

Length: 39 mm

Width: 39 mm

Height: 98 mm

Weight: 84 g

Deep Violet 115 30ml

0384284 - #0094376975789

Length: 39 mm

Width: 39 mm

Height: 98 mm

Weight: 85 g

Prism Violet 391 30ml

0087330 - #0887452047612

Length: 39 mm

Width: 39 mm

Height: 98 mm

Weight: 80 g

Purple 015 30ml

0087410 - #0887452047698

Length: 39 mm

Width: 39 mm

Height: 98 mm

Weight: 80 g

Dioxazine Purple 186 30ml

0384286 - #094376975826

Length: 39 mm

Width: 39 mm

Height: 98 mm

Weight: 80 g

Phthalocyanine Blue Red Shade 314 30ml

0087350 - #0887452047636

Length: 39 mm

Width: 39 mm

Height: 98 mm

Weight: 80 g

Cerulean Blue Hue 470 30ml

0384282 - #0094376976014

Length: 39 mm

Width: 39 mm

Height: 98 mm

Weight: 80 g

Prussian Blue Hue 320 30ml

0384298 - #0094376975925

Length: 39 mm

Width: 39 mm

Height: 98 mm

Weight: 85 g

Phthalocyanine Blue Green Shade 316 30ml

0384304 - #0094376975895

Length: 39 mm

Width: 39 mm

Height: 98 mm

Weight: 85 g

Turquoise Deep 561 30ml

0384324 - #0094376976021

Length: 39 mm

Width: 39 mm

Height: 98 mm

Weight: 80 g

Turquoise 287 30ml

0087340 - #0887452047629

Length: 39 mm

Width: 39 mm

Height: 98 mm

Weight: 80 g

Sap Green Permanent 315 30ml

0384312 - #0094376975888

Length: 39 mm

Width: 39 mm

Height: 98 mm

Weight: 85 g

Hooker's Green Hue Permanent 224 30ml

0087360 - #0887452047643

Length: 39 mm

Width: 39 mm

Height: 98 mm

Weight: 80 g

Phthalocyanine Green Blue Shade 317 30ml

0384300 - #0094376975901

Length: 39 mm

Width: 39 mm

Height: 98 mm

Weight: 87 g

Phthalocyanine Green Yellow Shade 319 30ml

0384302 - #0094376975918

Length: 39 mm

Width: 39 mm

Height: 98 mm

Weight: 87 g

Vivid Lime Green 740 30ml

0384326 - #0094376976052

Length: 39 mm

Width: 39 mm

Height: 98 mm

Weight: 80 g

Yellow Oxide 416 30ml

0384334 - #0094376975994

Length: 39 mm

Width: 39 mm

Height: 98 mm

Weight: 80 g

Transparent Raw Sienna 332 30ml

0384322 - #0094376975949

Length: 39 mm

Width: 39 mm

Height: 98 mm

Weight: 86 g

Transparent Burnt Sienna 129 30ml

0384318 - #0094376975796

Length: 39 mm

Width: 39 mm

Height: 98 mm

Weight: 86 g

Red Oxide 335 30ml

0384310 - #0094376975963

Length: 39 mm

Width: 39 mm

Height: 98 mm

Weight: 83 g

Perylene Maroon 507 30ml

0087380 - #0887452047667

Length: 39 mm

Width: 39 mm

Height: 98 mm

Weight: 80 g

Transparent Raw Umber 333 30ml

0384316 - #0094376975956

Length: 39 mm

Width: 39 mm

Height: 98 mm

Weight: 86 g

Sepia 609 30ml

0087430 - #0887452047704

Length: 39 mm

Width: 39 mm

Height: 98 mm

Weight: 80 g

Transparent Burnt Umber 130 30ml

0384320 - #0094376975802

Length: 39 mm

Width: 39 mm

Height: 98 mm

Weight: 80 g

Carbon Black 337 30ml

0384280 - #0094376976069

Length: 39 mm

Width: 39 mm

Height: 98 mm

Weight: 85 g

Neutral Grey Value 5 / Mixing grey 599 30ml

0384296 - #0094376976038

Length: 39 mm

Width: 39 mm

Height: 98 mm

Weight: 85 g

Titanium White 432 30ml

0384314 - #0094376976007

Length: 39 mm

Width: 39 mm

Height: 98 mm

Weight: 91 g

Fluorescent Yellow 981 30ml

0087520 - #0887452048534

Length: 39 mm

Width: 39 mm

Height: 98 mm

Weight: 80 g

Fluorescent Orange 982 30ml

0087510 - #0887452048527

Length: 39 mm

Width: 39 mm

Height: 98 mm

Weight: 80 g

Fluorescent Red 983 30ml

0087490 - #0887452048503

Length: 39 mm

Width: 39 mm

Height: 98 mm

Weight: 80 g

Fluorescent Pink 987 30ml

0087500 - #0887452048510

Length: 39 mm

Width: 39 mm

Height: 98 mm

Weight: 80 g

Fluorescent Blue 984 30ml

0087530 - #0887452048589

Length: 39 mm

Width: 39 mm

Height: 98 mm

Weight: 80 g

Fluorescent Green 985 30ml

0087540 - #0887452048596

Length: 39 mm

Width: 39 mm

Height: 98 mm

Weight: 80 g

Iridescent Bright Silver 236 30ml

0384290 - #0094376975864

Length: 39 mm

Width: 39 mm

Height: 98 mm

Weight: 86 g

Iridescent Bright Gold 234 30ml

0384288 - #0094376975857

Length: 39 mm

Width: 39 mm

Height: 98 mm

Weight: 87 g

Iridescent Rich Bronze 229 30ml

0384292 - #0094376975833

Length: 39 mm

Width: 39 mm

Height: 98 mm

Weight: 87 g

Iridescent Rich Copper 230 30ml

0384336 - #0094376975840

Length: 39 mm

Width: 39 mm

Height: 98 mm

Weight: 86 g

Iridescent Rose Gold 30ml

0087440 - #0887452048251

Length: 39 mm

Width: 39 mm

Height: 98 mm

Weight: 80 g

Muted Collection Pink 504 30ml

0424430 - #887452995524

Length: 39 mm

Width: 39 mm

Height: 98 mm

Weight: 80 g

Muted Collection Grey 505 30ml

0424440 - #887452995531

Length: 39 mm

Width: 39 mm

Height: 98 mm

Weight: 80 g

Muted Collection Violet 502 30ml

0424450 - #887452995500

Length: 39 mm

Width: 39 mm

Height: 98 mm

Weight: 83 g

Muted Collection Turquoise 503 30ml

0424420 - #887452995548

Length: 39 mm

Width: 39 mm

Height: 98 mm

Weight: 84 g

Muted Collection Green 501 30ml

0424460 - #887452995517

Length: 39 mm

Width: 39 mm

Height: 98 mm

Weight: 84 g

Ink 150ml 337 Carbon Black 150ml

0384274 - #094376976519

Length: 67 mm

Width: 67 mm

Height: 80 mm

Weight: 190 g

Muted Collection 30ml Set Of 6 including white

0424470 - #887452032083

Length: 134 mm

Width: 90 mm

Height: 93 mm

Weight: 500 g

Ink 150ml Pen Cleaner 150ml

0384276 - #094376975765

Length: 67 mm

Width: 67 mm

Height: 80 mm

Weight: 190 g
 
Barcode
Length (mm)
Width (mm)
Height (mm)
Weight (g)

EDP:0087400

Bismuth Yellow 155 30ml

0887452047681
39
39
98
80

EDP:0384330

Yellow Medium Azo 412 30ml

0094376975970
39
39
98
85

EDP:0384278

Cadmium Yellow Light Hue 159 30ml

0094376975819
39
39
98
84

EDP:0384332

Yellow Orange Azo 414 30ml

0094376975987
39
39
98
80

EDP:0087460

Yellow Deep 295 30ml

0887452047735
39
39
98
80

EDP:0087450

Yellow Orange 298 30ml

0887452047728
39
39
98
80

EDP:0087370

Bright Orange 720 30ml

0887452047650
39
39
98
80

EDP:0384328

Vivid Red Orange 620 30ml

0094376976045
39
39
98
80

EDP:0384294

Naphthol Crimson 292 30ml

0094376975871
39
39
98
85

EDP:0384306

Pyrrole Red 321 30ml

0094376975932
39
39
98
86

EDP:0087480

Naphthol Red Light 294 30ml

0887452048244
39
39
98
80

EDP:0087390

Rubine Red 388 30ml

0887452047674
39
39
98
80

EDP:0384308

Quinacridone Magenta 114 30ml

0094376975772
39
39
98
84

EDP:0384284

Deep Violet 115 30ml

0094376975789
39
39
98
85

EDP:0087330

Prism Violet 391 30ml

0887452047612
39
39
98
80

EDP:0087410

Purple 015 30ml

0887452047698
39
39
98
80

EDP:0384286

Dioxazine Purple 186 30ml

094376975826
39
39
98
80

EDP:0087350

Phthalocyanine Blue Red Shade 314 30ml

0887452047636
39
39
98
80

EDP:0384282

Cerulean Blue Hue 470 30ml

0094376976014
39
39
98
80

EDP:0384298

Prussian Blue Hue 320 30ml

0094376975925
39
39
98
85

EDP:0384304

Phthalocyanine Blue Green Shade 316 30ml

0094376975895
39
39
98
85

EDP:0384324

Turquoise Deep 561 30ml

0094376976021
39
39
98
80

EDP:0087340

Turquoise 287 30ml

0887452047629
39
39
98
80

EDP:0384312

Sap Green Permanent 315 30ml

0094376975888
39
39
98
85

EDP:0087360

Hooker's Green Hue Permanent 224 30ml

0887452047643
39
39
98
80

EDP:0384300

Phthalocyanine Green Blue Shade 317 30ml

0094376975901
39
39
98
87

EDP:0384302

Phthalocyanine Green Yellow Shade 319 30ml

0094376975918
39
39
98
87

EDP:0384326

Vivid Lime Green 740 30ml

0094376976052
39
39
98
80

EDP:0384334

Yellow Oxide 416 30ml

0094376975994
39
39
98
80

EDP:0384322

Transparent Raw Sienna 332 30ml

0094376975949
39
39
98
86

EDP:0384318

Transparent Burnt Sienna 129 30ml

0094376975796
39
39
98
86

EDP:0384310

Red Oxide 335 30ml

0094376975963
39
39
98
83

EDP:0087380

Perylene Maroon 507 30ml

0887452047667
39
39
98
80

EDP:0384316

Transparent Raw Umber 333 30ml

0094376975956
39
39
98
86

EDP:0087430

Sepia 609 30ml

0887452047704
39
39
98
80

EDP:0384320

Transparent Burnt Umber 130 30ml

0094376975802
39
39
98
80

EDP:0384280

Carbon Black 337 30ml

0094376976069
39
39
98
85

EDP:0384296

Neutral Grey Value 5 / Mixing grey 599 30ml

0094376976038
39
39
98
85

EDP:0384314

Titanium White 432 30ml

0094376976007
39
39
98
91

EDP:0087520

Fluorescent Yellow 981 30ml

0887452048534
39
39
98
80

EDP:0087510

Fluorescent Orange 982 30ml

0887452048527
39
39
98
80

EDP:0087490

Fluorescent Red 983 30ml

0887452048503
39
39
98
80

EDP:0087500

Fluorescent Pink 987 30ml

0887452048510
39
39
98
80

EDP:0087530

Fluorescent Blue 984 30ml

0887452048589
39
39
98
80

EDP:0087540

Fluorescent Green 985 30ml

0887452048596
39
39
98
80

EDP:0384290

Iridescent Bright Silver 236 30ml

0094376975864
39
39
98
86

EDP:0384288

Iridescent Bright Gold 234 30ml

0094376975857
39
39
98
87

EDP:0384292

Iridescent Rich Bronze 229 30ml

0094376975833
39
39
98
87

EDP:0384336

Iridescent Rich Copper 230 30ml

0094376975840
39
39
98
86

EDP:0087440

Iridescent Rose Gold 30ml

0887452048251
39
39
98
80

EDP:0424430

Muted Collection Pink 504 30ml

887452995524
39
39
98
80

EDP:0424440

Muted Collection Grey 505 30ml

887452995531
39
39
98
80

EDP:0424450

Muted Collection Violet 502 30ml

887452995500
39
39
98
83

EDP:0424420

Muted Collection Turquoise 503 30ml

887452995548
39
39
98
84

EDP:0424460

Muted Collection Green 501 30ml

887452995517
39
39
98
84

EDP:0384274

Ink 150ml 337 Carbon Black 150ml

094376976519
67
67
80
190

EDP:0424470

Muted Collection 30ml Set Of 6 including white

887452032083
134
90
93
500

EDP:0384276

Ink 150ml Pen Cleaner 150ml

094376975765
67
67
80
190