Drawing Using Grids: Portraits With Character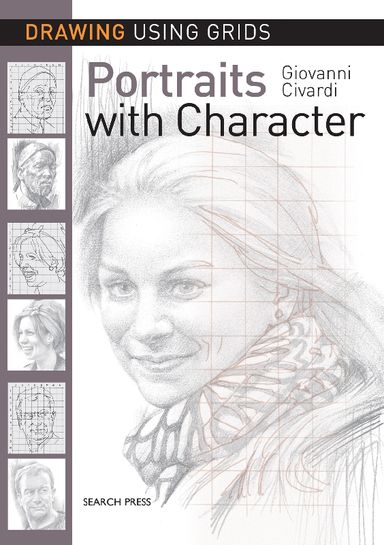 ISBN 9781782215318
Publisher Search Press
Format BC Paperback
Dimensions 210mm x 295mm
Page Extent 80
Pub Date February 2018
Description
From world-renowned artist Giovanni Civardi, this highly practical guide uses the traditional grid technique to make the process of creating a characterful portrait drawing both simple and accessible.
Starting from a photograph, Civardi shows you how to create an accurate pencil sketch of the subject by overlaying a grid and transferring the image one square at a time. The drawing is then rendered in easy stages to create a finished portrait. Even the most complex of subjects can be broken down into easy steps using this method, and by following the numerous, step-by-step exercises the reader will very soon be producing highly detailed drawings based on photographs of their own.
About the Author
Giovanni Civardi was born in Milan in 1947. While training to become a sculptor, portrait artist and illustrator at the Free Life-Study School of the Accademia di Brera, he also studied medicine and surgery. For over a decade, he worked as an illustrator, producing commissions for newspapers, magazines and book covers. During frequent trips to France and Denmark, Civardi put on one-man exhibitions of this work and pursued his interest in studying the relationship between medical anatomy and the human form as depicted by the artist. His experience gained from teaching anatomy, life drawing and portraiture in schools and institutions over many years has led to the publication of numerous books in which Civardi's experiences are brought into focus.
Book

0019240 - #9781782215318

Length: 440 mm

Width: 320 mm

Height: 130 mm

Weight: 13000 g
|   | Barcode | Length (mm) | Width (mm) | Height (mm) | Weight (g) |
| --- | --- | --- | --- | --- | --- |
| | 9781782215318 | 440 | 320 | 130 | 13000 |