Drawing And Painting Wild Animals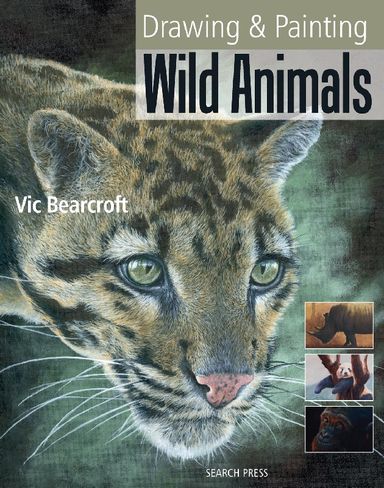 ISBN 9781844486946
Publisher Search Press
Format BC Paperback
Dimensions 216mm x 279mm
Page Extent 128
Pub Date October 2012
Description
Vic shares his love of drawing and painting wild animals, showing how to capture the personality and distinctive features of a variety of creatures. Using simple steps and plenty of detail, this book shows you how to create beautiful artworks, from drawing the basic shapes through to realising your favourite animals in your preferred medium.
Expert advice on drawing and painting eyes, noses, paws, fur, hooves and horns
Six step-by-step projects, from tigers to timberwolves, and pandas to chimpanzees
In-depth instruction in pastels, acrylics, coloured pencils, watercolour, charcoal and more
Dozens of inspirational pictures
About the Author
Vic Bearcroft is a professional wildlife and pet portrait artist, who specialises in pastel on velour, but also works in pencil, watercolour, coloured pencil, charcoal, oil and acrylic media.
Having spent part of his childhood in Kenya, Vic has been drawing animals since he could hold a pencil. Being passionate about wildlife in general - particularly wolves - enables Vic to work with a large number of animal welfare and conservation organisations worldwide, donating prints, merchandise and funds.
Book

0019000 - #9781782217879

Length: 453 mm

Width: 301 mm

Height: 166 mm

Weight: 16200 g
|   | Barcode | Length (mm) | Width (mm) | Height (mm) | Weight (g) |
| --- | --- | --- | --- | --- | --- |
| | 9781782217879 | 453 | 301 | 166 | 16200 |