How To Draw Animals In Simple Steps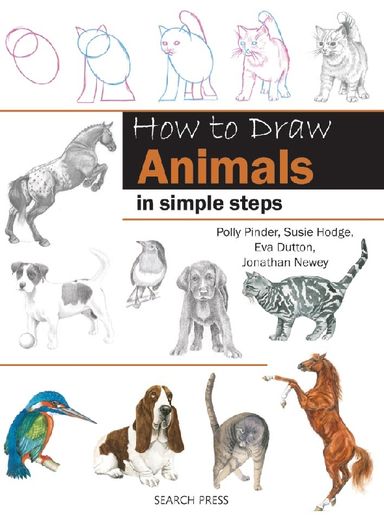 ISBN 9781844486649
Publisher Search Press
Format BC Paperback
Dimensions 216mm x 292mm
Page Extent 288
Description
Learn how to draw cute household pets, impressive wild animals and amazing birds using this fun and easy step-by-step method. Starting with simple shapes, four popular artists show how easy it is to develop circles, rectangles, squares and ovals into an exciting selection of creatures including cats, dogs, horses, lions, elephants, monkeys, penguins and eagles. If you have never drawn before this is definitely the book for you, and there is a lot here to inspire more experienced artists too.
Aspiring artists will easily learn to draw with this simple guide, while more experienced artists will develop specific skills for drawing animals. The example animals start as basic geometric shapes and lines that become completed drawings within four or five steps. Featured are guided instructions to draw cats, dogs, horses, lions, tigers, bears, a wide selection of birds, and many more creatures great and small. Despite the simplicity of the construction methods, these images are realistic representations of the animals portrayed. Once mastered, the traditional approach used in this book can be used for any subject.
Over 130 step-by-step drawings
A fantastic selection of popular animals and birds
Easy methods and great results
About the Authors
Eva Dutton is a professional artist and qualified riding instructor (BHSAI) and stable manager (BHS). She studied fine art at Norwich School of Art and has spent many years combining her love of painting with her professional equestrian work. She currently works to commission and exhibits widely. As well as her love for horses, she has a passion for wildlife and the landscape. She is now painting wolves and other creatures as well as farm and domestic animals. Eva is a member of the Society of Equestrian Artists and she is currently working full time as a professional artist and illustrator. She lives in Shropshire.
Polly Pinder studied graphics at Leeds Art College. Her first job was with a Yorkshire newspaper, and she subsequently worked as a lecturer in graphic design at Wakefield District College. She has written and illustrated a number of books on a variety of other subjects including cake decoration and growing herbs, papermaking and paper crafts. Her illustrations in Muck and Magic were commended when that book won the 1993 Sir Peter Kent Conservation Book Prize. She has also designed bed linen and wallpapers, and the graphics for a wallpaper book based on newly-discovered eighteenth-century wallpapers.
Book

0019160 - #9781844486649

Length: 450 mm

Width: 307 mm

Height: 135 mm

Weight: 12900 g
|   | Barcode | Length (mm) | Width (mm) | Height (mm) | Weight (g) |
| --- | --- | --- | --- | --- | --- |
| | 9781844486649 | 450 | 307 | 135 | 12900 |