Jean Haines Colour & Light In Watercolour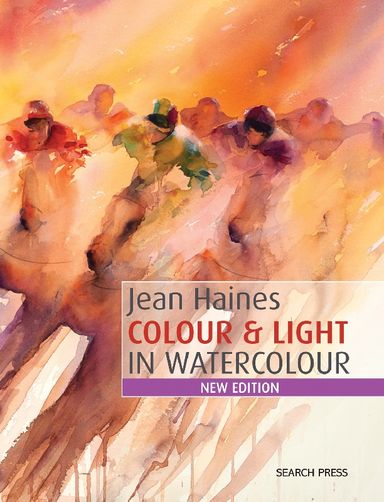 ISBN 9781782212614
Publisher Search Press
Format BC Paperback
Dimensions 216mm x 292mm
Page Extent 128
Pub Date October 2015
Description
Jean Haines' characteristically loose and expressive paintings are filled with colour and light, and in this exciting book, she passes on her knowledge and expert advice in a way that is both inspiring and instructional.
As soon as you open the book you will want to pick up a brush and start painting and whatever your ability, Jean encourages you to simply have a go' and enjoy the freedom and happiness that painting can bring.
Jean's subjects include animals, landscapes, people and flowers, and there are many examples of Jean's work throughout the book to both delight and inspire you. Jean takes a highly practical approach to her teaching, and there are numerous short exercises and demonstrations as well as longer projects that guide you through a painting from beginning to end.
Wherever you are on your painting journey, Jean will open your eyes to the colour and light that surrounds you and show you how to incorporate it into your paintings.
About the Author
Prize-winning and inspirational watercolourist Jean Haines is well-known for her love of her chosen medium and the ability to instil enthusiasm and motivation in all around her. Having lived and travelled in many countries, this popular international artist and teacher has developed her skills while under the influence of masters from many countries, including Asia, the Middle East and Europe. The magical free flow of water and colour straight on to a blank working surface creates amazing results, often leaving her sell-out audiences breathless with delight.
Jean runs hugely popular international watercolour workshops for artists from around the globe, and her highly sought-after paintings can similarly be found in homes all over the world. Jean is a member of the SWA, Society for Women Artists, and has won numerous awards for her work, including the Anthony J Lester Award during the SWA Annual Exhibition, and the SAA Professional Artist of the Year, Experimental and Abstract Award. She regularly writes for art magazines and exhibits in a number of galleries.
Jean lives in Hampshire, UK.
Book

0019070 - #9781782212614

Length: 311 mm

Width: 232 mm

Height: 238 mm

Weight: 14400 g
|   | Barcode | Length (mm) | Width (mm) | Height (mm) | Weight (g) |
| --- | --- | --- | --- | --- | --- |
| | 9781782212614 | 311 | 232 | 238 | 14400 |