Acrylics For The Absolute Beginner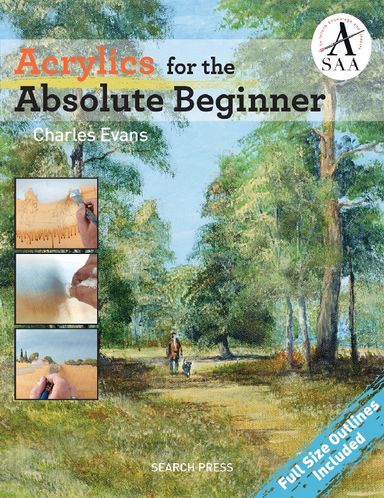 ISBN 9781782213987
Publisher Search Press
Format Paperback + 12 outline tracings
Dimensions 216mm x 280mm
Page Extent 176
Pub Date December 2017
Description
A comprehensive course in landscape painting with acrylics by popular author and tutor Charles Evans. Charles' no-nonsense techniques and engaging writing style bring acrylic painting within the grasp of anyone keen to get started in this versatile and popular medium.
The book begins with excellent advice for the beginner, including easy drawing for painting, composition, easy perspective, light and shade, colour, and how to use acrylics with different painting styles. There are six full step-by-step painting projects ranging from simple skies to snowy landscapes with horses, each of which is supported by additional exercises and techniques.
The step-by-step projects allow aspiring artists to put into practice their new-found skills, and produce six stunning paintings of their own, in a range of styles. A pull-out outline drawing is provided for every project, and Charles shows how to transfer these onto the painting surface. Charles' accessible and irreverent style makes learning to paint with acrylics easy and fun.
Take the first step to painting with acrylics with this easy-to-follow course on producing fantastic artworks quickly and easily. Charles Evans' expert practical advice and simple step-by-step approach will quickly get you painting. With practical and clear advice on using acrylics with oil and watercolour techniques, and a variety of subjects, this is an invaluable guide for any aspiring artist.
About the Author
Charles Evans is one of the UK's leading painters, well-known from his long-running TV series and for his art classes, which are held all over the UK. After a conventional school education Charles entered and spent many years in the catering trade, eventually taking a break to study at Lincoln College of Art. He then joined the Royal Air Force. Following several years in the military, Charles resumed his civilian life in catering, owning bistros and contract catering companies, before turning back to art around thirty years ago. Charles made over two hundred television programmes on art for the Tyne Tees television company, then for the Discovery Channel.
Charles has written several books for Search Press, and now also represents Daler-Rowney as their main demonstrator. His exuberant and informal personality is reflected in his paintings, which have a lightness and simplicity that many artists aspire to.
Charles lives in Morpeth, Northumberland, UK.
Book

0018730 - #9781782213987

Length: 447 mm

Width: 295 mm

Height: 129 mm

Weight: 14200 g
|   | Barcode | Length (mm) | Width (mm) | Height (mm) | Weight (g) |
| --- | --- | --- | --- | --- | --- |
| | 9781782213987 | 447 | 295 | 129 | 14200 |