Fabriano Artistico Watercolour Sheets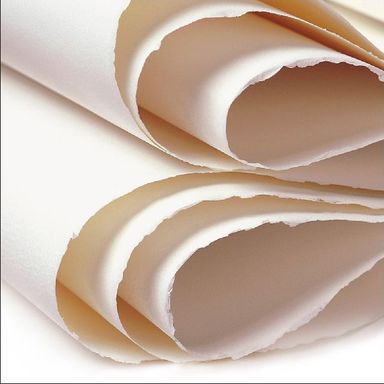 Fabriano Artistico Watercolour Paper is mould made, produced with 100% Cotton, Chlorine and Acid Free, guaranteeing long conservation and inalterability over time.
The paper is sized both internally and externally, making it ideally absorbent whilst retaining its characteristics even if scratched.
Traditional White is produced without optical brighteners.
Sheets have 2 deckled edges and watermarked "FABRIANO+ARTISTICO" on the short side.

This high quality paper satisfies the requirements of all professional artists whilst also being suitable for recreational artists.
Ideal for watercolour, tempera, acrylic, ink, charcoal, graphite and drawing. It is also suitable for printmaking.
Available in Hot Pressed, Cold Pressed and Rough.
Cold Pressed 200gsm 56x76cm Traditional White Enhanced

0088530 - #9311960088535

Length: 760 mm

Width: 5 mm

Height: 560 mm

Weight: 200 g

Cold Pressed 300gsm 56x76cm Extra White Enhanced

0084640 - #9311960084643

Length: 560 mm

Width: 760 mm

Height: 0 mm

Weight: 100 g

Cold Pressed 300gsm 56x76cm Traditional White Enhanced

0084240 - #9311960084247

Length: 560 mm

Width: 760 mm

Height: 0 mm

Weight: 100 g

Cold Pressed 640gsm 56x76cm Traditional White Enhanced

0084300 - #9311960084308

Length: 560 mm

Width: 760 mm

Height: 0 mm

Weight: 100 g

Cold Pressed 640gsm 56x76cm Extra White Enhanced

0084720 - #9311960084728

Length: 560 mm

Width: 760 mm

Height: 0 mm

Weight: 100 g

Hot Pressed 200gsm 56x76cm Traditional White Enhanced

0088520 - #9311960088528

Length: 760 mm

Width: 5 mm

Height: 560 mm

Weight: 200 g

Hot Pressed 300gsm 56x76cm Traditional White Enhanced

0084250 - #9311960084254

Length: 560 mm

Width: 760 mm

Height: 0 mm

Weight: 100 g

Hot Pressed 300gsm 56x76cm Extra White Enhanced

0084660 - #9311960084667

Length: 560 mm

Width: 760 mm

Height: 0 mm

Weight: 100 g

Hot Pressed 640gsm 56x76cm Traditional White Enhanced

0084310 - #9311960084315

Length: 560 mm

Width: 760 mm

Height: 0 mm

Weight: 100 g

Hot Pressed 640gsm 56x76cm Extra White Enhanced

0084730 - #9311960084735

Length: 560 mm

Width: 760 mm

Height: 0 mm

Weight: 100 g

Rough 200gsm 56x76cm Traditional White Enhanced

0088540 - #9311960088542

Length: 760 mm

Width: 5 mm

Height: 560 mm

Weight: 200 g

Rough 300gsm 56x76cm Traditional White Enhanced

0084260 - #9311960084261

Length: 560 mm

Width: 760 mm

Height: 0 mm

Weight: 100 g

Rough 300gsm 56x76cm Extra White Enhanced

0084670 - #9311960084674

Length: 560 mm

Width: 760 mm

Height: 0 mm

Weight: 100 g

Rough 640gsm 56x76cm Traditional White Enhanced

0084320 - #9311960084322

Length: 560 mm

Width: 760 mm

Height: 0 mm

Weight: 100 g

Rough 640gsm 56x76cm Extra White

0418080 - #9311960418080

Length: 0 mm

Width: 0 mm

Height: 0 mm

Weight: 0 g
 
Barcode
Length (mm)
Width (mm)
Height (mm)
Weight (g)

EDP:0088530

Cold Pressed 200gsm 56x76cm Traditional White Enhanced

9311960088535
760
5
560
200

EDP:0084640

Cold Pressed 300gsm 56x76cm Extra White Enhanced

9311960084643
560
760
0
100

EDP:0084240

Cold Pressed 300gsm 56x76cm Traditional White Enhanced

9311960084247
560
760
0
100

EDP:0084300

Cold Pressed 640gsm 56x76cm Traditional White Enhanced

9311960084308
560
760
0
100

EDP:0084720

Cold Pressed 640gsm 56x76cm Extra White Enhanced

9311960084728
560
760
0
100

EDP:0088520

Hot Pressed 200gsm 56x76cm Traditional White Enhanced

9311960088528
760
5
560
200

EDP:0084250

Hot Pressed 300gsm 56x76cm Traditional White Enhanced

9311960084254
560
760
0
100

EDP:0084660

Hot Pressed 300gsm 56x76cm Extra White Enhanced

9311960084667
560
760
0
100

EDP:0084310

Hot Pressed 640gsm 56x76cm Traditional White Enhanced

9311960084315
560
760
0
100

EDP:0084730

Hot Pressed 640gsm 56x76cm Extra White Enhanced

9311960084735
560
760
0
100

EDP:0088540

Rough 200gsm 56x76cm Traditional White Enhanced

9311960088542
760
5
560
200

EDP:0084260

Rough 300gsm 56x76cm Traditional White Enhanced

9311960084261
560
760
0
100

EDP:0084670

Rough 300gsm 56x76cm Extra White Enhanced

9311960084674
560
760
0
100

EDP:0084320

Rough 640gsm 56x76cm Traditional White Enhanced

9311960084322
560
760
0
100

EDP:0418080

Rough 640gsm 56x76cm Extra White

9311960418080
0
0
0
0