Derwent Chromaflow Pencils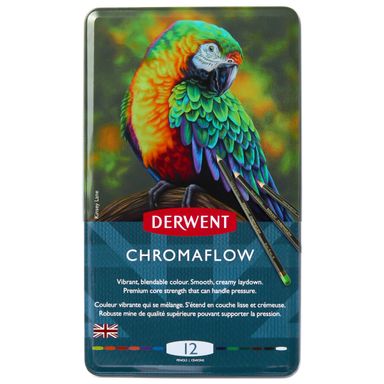 Derwent Chromaflow pencils have been formulated with rich pigments to deliver a bold, vibrant laydown. Premium core strength pencils that handle pressure when sharpening and in use. Enjoy consistent, reliable quality, every time.
Suitable for all types of colour pencil styles and techniques
Smooth texture for easy blending and seamless layering
Rich and vibrant colours ideal for creating striking artwork
Strong 3.5mm core provides a smooth, velvety laydown
Click here for Chromaflow colour chart.
Tin of 12 pencil colours: Sun Yellow, Flame, Scarlet, Blush Pink, Lilac, Denim, Blue, Basil, Grass Green, Natural Brown, Black and White
Tin of 24 pencil colours: Sun Yellow, Amber Gold, Golden Sun, Flame, Scarlet, Strawberry, Salmon, Blush Pink, Magenta, Lilac, Violet, Denim, Blue, Light Blue, Turquoise Green, Basil, Foliage, Grass Green, Burnt Sienna, Raisin, Natural Brown, Platinum, Black and White
Assorted Tin of 12

2305856 - #5028252616119

Length: 14 mm

Width: 116 mm

Height: 198 mm

Weight: 171 g

Assorted Tin of 24

2305857 - #5028252616133

Length: 23 mm

Width: 116 mm

Height: 198 mm

Weight: 240 g

Assorted Tin of 36

2306012 - #5028252627498

Length: 198 mm

Width: 125 mm

Height: 35 mm

Weight: 348 g

Assorted Tin of 48

2306013 - #5028252627511

Length: 198 mm

Width: 220 mm

Height: 25 mm

Weight: 493 g

Assorted Tin of 72

2306014 - #5028252627535

Length: 198 mm

Width: 220 mm

Height: 35 mm

Weight: 703 g
 
Barcode
Length (mm)
Width (mm)
Height (mm)
Weight (g)

EDP:2305856

Assorted Tin of 12

5028252616119
14
116
198
171

EDP:2305857

Assorted Tin of 24

5028252616133
23
116
198
240

EDP:2306012

Assorted Tin of 36

5028252627498
198
125
35
348

EDP:2306013

Assorted Tin of 48

5028252627511
198
220
25
493

EDP:2306014

Assorted Tin of 72

5028252627535
198
220
35
703